St Edmond High School
Class of 1971
In Memory
Jane Thissen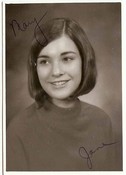 This is an email that I received from Jane's sister and seemed to give me some understanding about her life. I had been so hopeful that she would finally restore contact and join us at this reunion.
I'm Mary Thissen - one of Jane Thissens' younger twin sisters.
I know that you are aware that Jane passed away in late March because I saw the card you wrote to our folks when we had a service for her in their home in North Carolina. Thank you so much for the love and support that you conveyed in your message. It meant a great deal to my parents – and to me when I read it.
I cannot even begin to describe the impact this has all had – Jane was such a talented, passionate, amazing woman - and I literally ache for her every day. She was not only my sister, but my soul mate – and it has been quite a struggle to get my head and heart around this.
It has been my task to contact people in her life – and it has been a challenging task – I'm not sure if you are aware that while it initially appeared Jane may have took her own life, there are some extenuating circumstances that are under police investigation – no cause of death or death certificate has been released. Given that, the police have all the tools I would have used to contact folks in her life – her phone, her computer, her address book etc… so I initially contacted folks who were her friends on Facebook…."